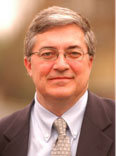 Allan Parker has served as the president of The Justice Foundation (formerly the Texas Justice Foundation) since 1993 when it was founded to protect the fundamental freedoms and rights essential to the preservation of American society. Under his leadership, the Foundation has represented clients free of charge in cases of limited government, private property, free markets, parental school choice, parental rights in education, and enforcing laws to protect women's health.
Mr. Parker served as the lead legal counsel for Norma McCorvey, who was "Jane Roe" of Roe v. Wade, and Sandra Cano, who was "Mary Doe" of Doe v. Bolton, in the legal effort to overturn their landmark Supreme Court rulings that brought legalized abortion on demand in America. He is currently co-host of the television program, Faces of Abortion. He is a frequent speaker on Roe v. Wade and the harm caused to women by abortion.
Mr. Parker is a former Professor of Law at St. Mary's University in San Antonio, Texas, where he taught Education Law and Civil Procedure. He was a Visiting Professor at the University of Texas, and studied International Human Rights at the International Human Rights Institute in Strasbourg, France. He taught International Human Rights at the St. Mary's Institute on World Legal Problems in Innsbruck, Austria in 1992.
Mr. Parker has been featured in numerous interviews or articles in national and international media, including the "Hannity and Colmes" television show, the "O'Reilly Factor," C-SPAN, BBC radio, the Wall Street Journal, the "Jim Lehrer News Hour," Focus on the Family magazine, Charisma magazine, Vogue magazine, the Dutch magazine, Visie, and newspapers and radio programs around the world.
Mr. Parker was selected as a "Hero for Children" by the Texas State Board of Education in 2000 for his work in education. He is the author of numerous works on parental school choice and a frequent lecturer on legal topics, including the judiciary, education, and abortion. He and The Justice Foundation were selected in 1996 by the Texas State Board of Education to co-evaluate the Texas Open-Enrollment Charter Program.
Prior to teaching, Mr. Parker was in the general civil practice of law as a trial lawyer. He was Board Certified in Civil Trial (1987-1992) and Personal Injury Trial Law (1988-1993) by the Texas Board of Legal Specialization.
Mr. Parker received his J.D. degree with high honors from the University of Texas School of Law in 1979. He was an Associate Editor of the Texas Law Review, a Chancellor, Order of the Coif, and Order of Barristers for his outstanding advocacy skills. He graduated Phi Beta Kappa from the University of Oklahoma with a B.A. in Economics in 1974.