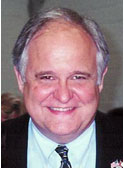 Richard "Clayton" Trotter is the General Counsel for The Justice Foundation. He is currently serving on the Foundation's legal team to overturn Roe v. Wade and Doe v. Bolton, the companion cases that legalized abortion in America.
Mr. Trotter served for 17 years as a law professor, as Associate Professor of Business Administration at Trinity University and previously taught in both the School of Law and the College of Business Administrtion at Texas Tech University. He was one of the Founding Professors of Regent University School of Law.  He also served as Corporate Counsel for General Mills, Inc. and was Law Clerk to Judge John H. Wood, Jr., United States District Judge for the Western District of Texas. Mr. Trotter graduated with a Doctor of Jurisprudence Degree from the University of Texas in 1976. He attended Oxford University in England for two years of post-doctoral studies in International Law and Management.
Mr. Trotter is the author/co-author of numerous legal articles, including, "And Nothing But the Truth—Auditors as Expert Witnesses," Internal Auditor; "Accountant's Professional Liability: Treble Damages Against CPAs?" Today's CPA Magazine; "Of Outhouses and the Freedom of the Press," The Police Journal; "Ethical Problems in the Legal Profession," Journal of the Legal Profession; "The Public Accounting Litigation Wars: Will Expert Systems Lead the Next Assault?" Jurimetrics; and, "Bhopal, India and Union Carbide Corporation – The Second Tragedy." The Journal of Business Ethics. He also co-authored the book entitled "Lone Star Law."
Mr. Trotter is admitted to practice in Texas, Florida, the United States District Courts for the Western and Northern District of Texas, the Fifth and Seventh United States Circuit Courts of Appeals and the United States Supreme Court. He past President of the Southern Business Law Association and formerly a member of the American Business Law Association. He is also a member of the State Bar of Texas and Phi Beta Delta, the Honorary Society of International Scholars. Mr. Trotter has been working closely with The Justice Foundation since its formation in 1993. Recently, he addressed audiences at the University of Portugal in Lisbon and at the Norman Manley School of Law at the University of the West Indies in Jamaica. for the Foundation. He is also one of the Hosts and Producer of the Justice Foundation's television program "Faces of Abortion" now seen in 125 nations.